Phew. That is a long title wouldnt you say? So in my previous couple of videos, a lot of you guys have been commenting on the darker vampy plummy lipcolour that I've been sporting and so I thought I would finally dedicate a post to that wonderful lipstick. And here they are:
Rimmel London Lasting Finish Matte by Kate Moss Lipsticks
in
112, 107, 106
(bit of an anticlimax right being just numbers and all... couldn't find the names! if they exist, let me know)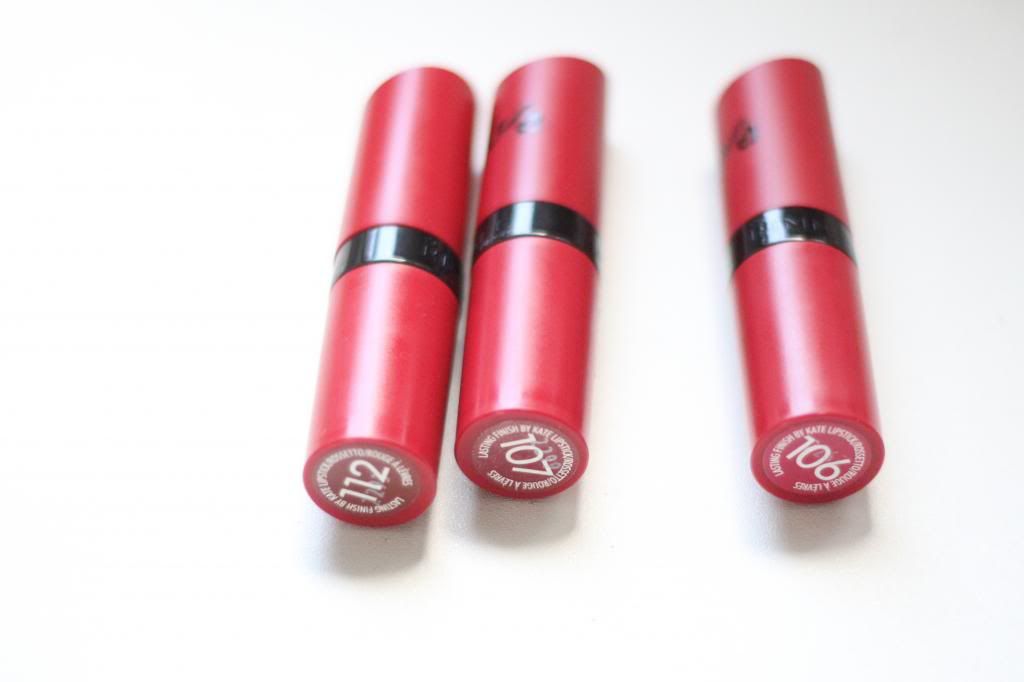 LIPSTICK SWATCHES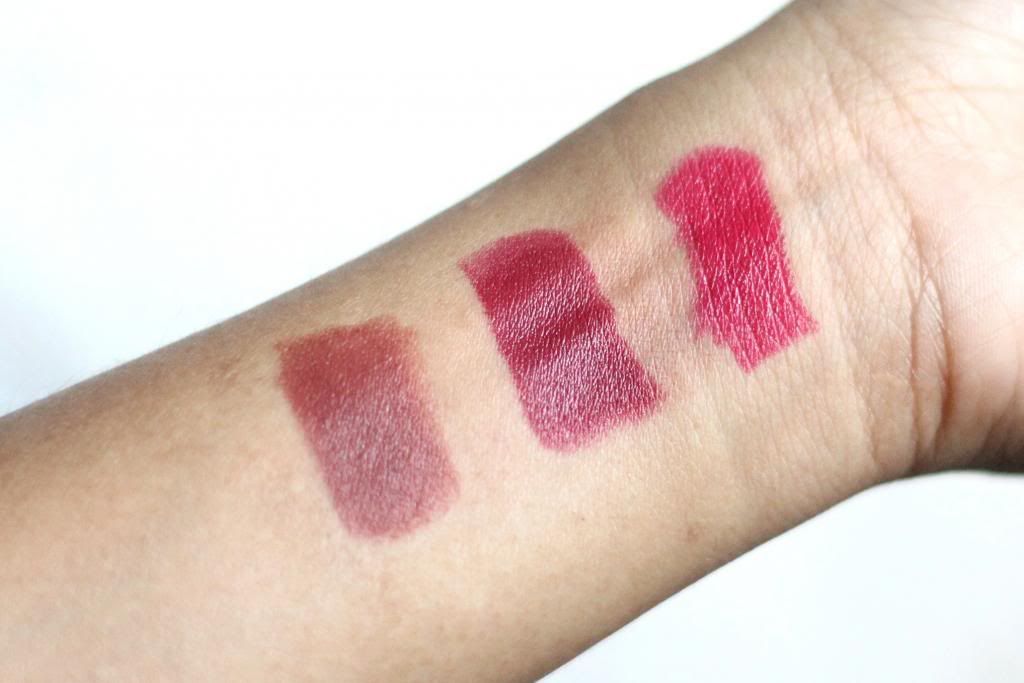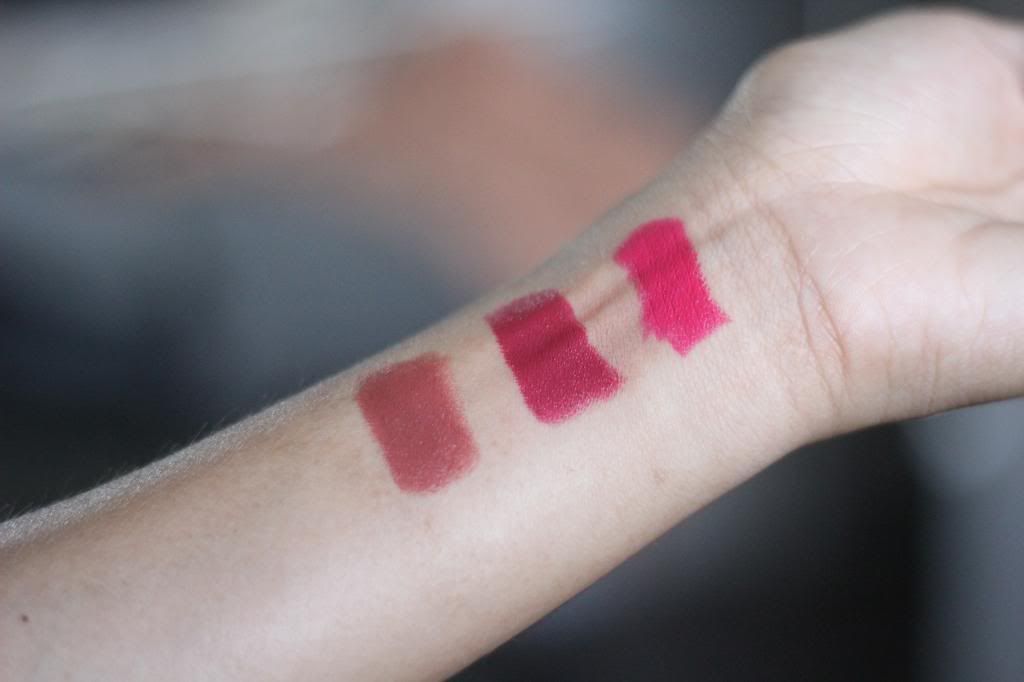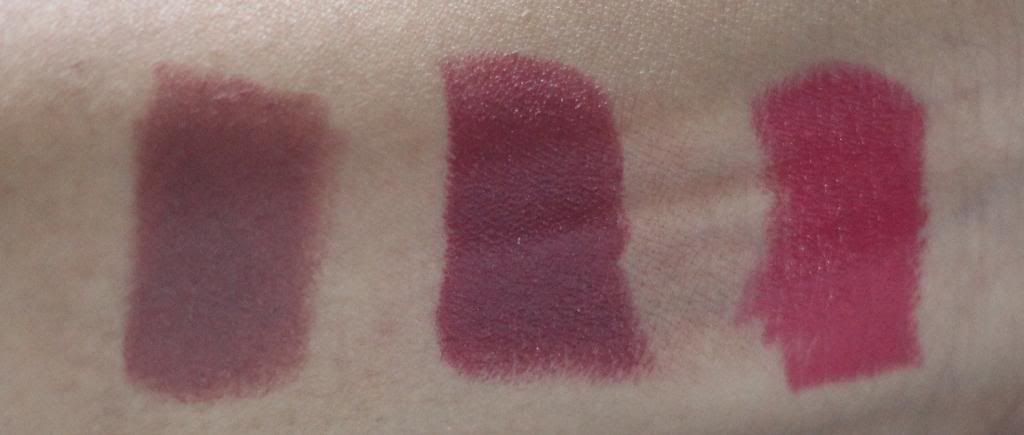 #112 - Dark brown-based red | #107 - Deep purple plum | #106 - Very bright warm pink
And of course, the lipstick that started all this commotion: #112
And I'm also currently wearing it in my most recent video: 90's Kid Survey TAG!
MY THOUGHTS:
I love these lipsticks. If you like matte, but found that the SAVVY matte lipsticks were a bit too drying, I think this is a great way to ease into matte lipsticks without the worries of dry lips. I found these quite silky and slippery in texture, but with all matte lipsticks lips MUST be moisturised and exfoliated for the best application. Do note however that it does become dry-er throughout the day making it more visibly matte (which I enjoy).
I give it full points for pigmentation and opacity, and the colour range is also quite nice, incorporating some gorgeous deep shades as well as some lighter ones (that I did not purchase).
One down fall I found with these lipsticks however is the gritty texture. It's not creamy-smooth like say the revlon matte lipsticks or even the savvy lipsticks. There's a definite gritty-ness to it which doesnt bother me too much, but I think this might be an issue for some. (Definitely not a deal breaker though as it doesnt change the look of the lipstick in any shape or form).
Overall I've really enjoyed the kate moss lipsticks and these have kept the standard. The last kate moss lipstick I've purchased was the
Rimmel colour show-off lipstick in "shocking pink"
and that has to be one of my ALL-TIME favourite drugstore (and even high-end) lipstick I've bought. A gorgeous
shocking
pink that is perfectly opaque and marvellously matte - and these are no different! It's like she built on that same lipstick formulation to include more colours. The texture, the pigmentation and even the smell is the same. They all have this gorgeous fruity watermelony(?) scent which I found to be deliciously delightful.
You know what, I actually think that
shade #106
might even be comparable to the limited edition colour "shocking pink" if you're struggling to get your hands on that colour!
So massive THUMBS UP from me. And another pro?
It's only $12.95 AUD RRP
. Now that is a
great
price. Beats the outrageous prices that a certain other company *coughrevloncough* asks for for their matte lipsticks! I believe these are even cheaper in the US & UK at around $5 a pop? Not bad!
Right now asos is actually having
30% off the rimmel cosmetics
(+ more if you're from the UK such as NARS, benefit etc) and they're currently being sold for $5.58 AUD + free shipping! So check it out here:
ASOS.COM
(
May have just bought two extra shades... #111 & #110. Oops. >_<)